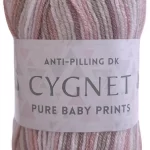 ---
If you are looking for a soft, durable and easy-care yarn for your baby projects, you might want to check out Cygnet Pure Baby Prints DK. This yarn is made of 100% anti-pilling acrylic, which means it will not form fuzzy balls on the surface after repeated use or washing. It is also machine washable and can be ironed on low heat.
Cygnet Pure Baby Prints DK comes in 10 lovely shades, each with a subtle multi-stripe effect that creates a beautiful pattern as you knit or crochet. The colours range from pastels to brights, and they match perfectly with the solid colours of Cygnet Pure Baby DK. You can mix and match them to create stunning garments, toys, accessories and blankets for your little ones.
The yarn is suitable for any DK patterns, and Cygnet also offers some free patterns on their website that you can download and try. The yarn has a good stitch definition and a smooth texture that is gentle on the skin. It is also very affordable, with a RRP of £3.65 per 100g ball.
If you want to see some examples of what you can make with Cygnets Pure Baby Prints DK, you can visit Cygnet's website to browse their online galleries. You will be amazed by the variety and quality of this yarn, and your baby will love wearing it.
But wait, there's more! If you want to buy this yarn online, you can also visit Knitting Wool Sales, where you can find Cygnet Pure Baby Prints DK in all 10 shades, as well as other knitting supplies and accessories. Knitting Wool Sales is a family-run business that offers fast delivery, friendly service and competitive prices. This is available to purchase for only £2.75 per 100g. You can order this yarn from Knitting Wool Sales by clicking here
Cygnet Pure Baby Prints DK is a great choice for any baby project, whether you are knitting or crocheting for your own child, a grandchild, a friend or a charity. It is soft, durable, easy-care and beautiful. What more could you ask for?